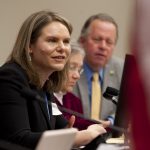 Radio and Television
California Edition – National Public Radio. "Economic Opportunity After the Great Recession: A View from the Golden State". Vanessa Rancano KQED. September 2016.
Valley Public Radio- National Public Radio. "New Report: 17 Percent of Valley Teens out of School and Out of Work". Joe Moore. October 18, 2015.
Valley Edition. National Public Radio – KVPR. "Poverty in Fresno". October 13, 2015.
All Things Considered. National Public Radio. "Florida Puerto Ricans Have a Stake in Immigration Reform". Amy Kiel WFME. December 12, 2013.
Newspaper and Print Media
Fresno State College of Social Science Magazine. "Disconnected Youth a Problem in the San Joaquin Valley. September 7, 2021.
The Atlantic. "Colleges have a Guy Problem." Derek Thompson. September 6, 2021.
Yes Magazine. "In California's Drier Future, What's the Best Investment for Securing Water". Tara Deaton. July 15, 2021.
The Week. "Ending DACA could royally screw up the Census. That's a problem for the GOP". Edward Burmilla. September 27, 2017.
American Academy for the Advancement of Science. "$1.6M from NSF to UC Davis to Study Water, Land Use in Disadvantaged Communities". https://www.eurekalert.org/pub_releases/2017-09/uoc–fn091417.php
Fresno State Magazine. "Helping The Valley's Most Vulnerable Youth".  Spring/Summer 2017.
Politico. "Evaluating the Presidential Candidates on Labor, Jobs, and Immigrant Workers".
September 30, 2016.
Workforce. "Obama's Labor Legacy".  September 15, 2016.
Fresno State News. "Community Organizations Key to Helping Disconnected Valley Youth". Kathleen Shock. August 2, 2016.
Hanford Sentinel. "Many Youth Disconnected From School and Job". Joseph Luiz. October 15, 2015.
Porterville Recorder. "Disconnected Youths Rampant in Valley" October 13, 2015.
The Business Journal. "Study: Up to 17% of Valley Youth Jobless, Out of School". October 8, 2015.
Online Media Forums